Room 14- Pre- Primary
Room 14 staff is committed to providing children with a stimulating environment and programs that aim to extend students socially, emotionally and academically. They also value inclusivity in a supportive atmosphere.
Play based learning is emphasised with varied outside and inside resources to cater for different interests and learning styles.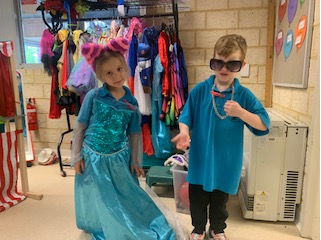 Role play areas are set up to develop a variety of social, academic and manipulative skills. This term we have started with a dress-up corner and puppet theatre and children are encouraged to role play and extend language acquisition by using their play to develop language concepts such as sentence structure. This is achieved by transferring their spoken language to the written form with a language experience approach. News-telling is also presented in a fun play-based manner with the use of a pretend television and remote.

Creativity is also encouraged through a variety of art and craft activities which are often linked to the different subject areas.
We also have a variety of puzzles, games and equipment that are play based and play a crucial part in improving children's critical thinking.  Exploration is highly valued and encouraged as in independence and organisation.
Technology is valued which is evident with computer use and bee-bot fun part of the curriculum.  Problem-solving is encouraged through construction based activities such as our building bridge activity.

Sensory based learning and a discovery approach are also highly valued and enjoyed by the children. Science is emphasised and our study of weather leads itself to interactive activities and experiments.
We are highly involved in the "You Can Do It" program and children are encouraged to become emotionally confident and resilient.
Being a child in Rom 14 is a fun and educational experience where a sense of belonging is emphasised!
Mrs Freese and Mrs De Vattimo