Noranda Students on Show
Several of our year 5 and 6 students have featured in the Ed! Section of the West Australian newspaper. The students were asked to respond to two questions: What is your favourite scary novel? or; What message would you give to world leaders today?
I wonder if there is a budding journalist among them!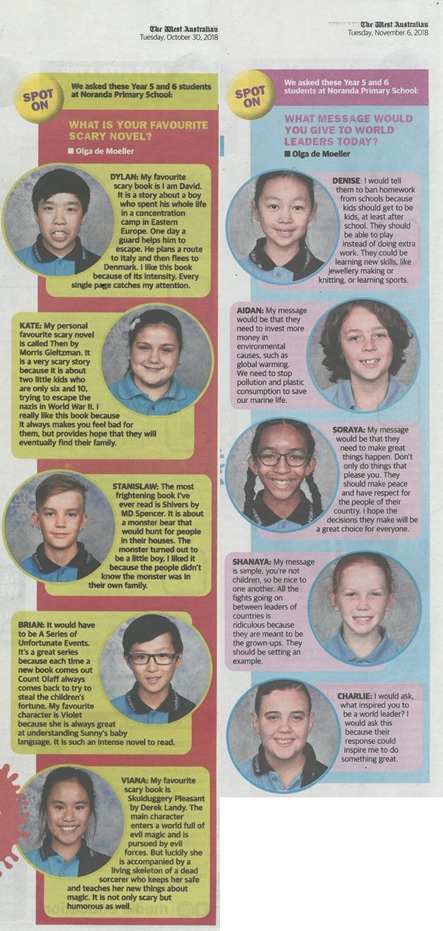 Red Faction Victorious after 17 Years
Our annual faction carnival took place on Friday 31st of August. A fantastic day was had by all. Congratulations to Red Faction who won after a 17 year drought. The final points were Red 704, Blue 696, Gold 452 and Green 400.
We now have the task of organising our teams for interschool athletics events. Good luck to the students who will be trying out for interschool team game events.
Congratulations to our year group champions and runners-up who are listed below.
Year Level
Champion Boy
Runner-up Boy
Champion Girl
Runner-up Girl
Year 3
Oska Kawabata

Orlando Stankovski

Lucas Jones
Lily Jovich
Isabella Lakay
Year 4
Darnell Hampstead
Cooper Shafizadeh
Aoibhe Bohan

Christine Chan

Lily Hendry
Year 5
Justin Russell
Noah Phillips

Jasper Dobson

Bridgette Lavelle
Kylee Huynh
Year 6
Joshua Smith
Finn Hendry
Rebekah Lakay
Soraya Robinson
Nationally Consistent Collection of Data for School Students with Disability
From the Principal
Our school is part of a national project about students with disability and/or learning difficulties.
We have been asked to provide data about the number and learning needs of children at our school. The name of the school and the name of the students will not be reported. Information about the different types of needs and the programs and resources the school uses to overcome barriers and support children with special educational needs will be collected.
We believe it is important to contribute to this because it will help Governments and the Department develop better policies that acknowledge the level of resources needed in schools to meet the needs of all students in Western Australia.
If you would like to learn more about the Nationally Consistent Collection of Data for School Students with Disability you can visit this website:
http://det.wa.edu.au/supportforschools
---
Bronze Star Swimming Achievement
Congratulations to Rebekah in Year 6 for achieving her Bronze Star! Some of the criteria included escape techniques, team search in deep water, survival skills, 25m rescue in deep water as well as swimming skills demonstrating all of the different strokes. Well done Rebekah!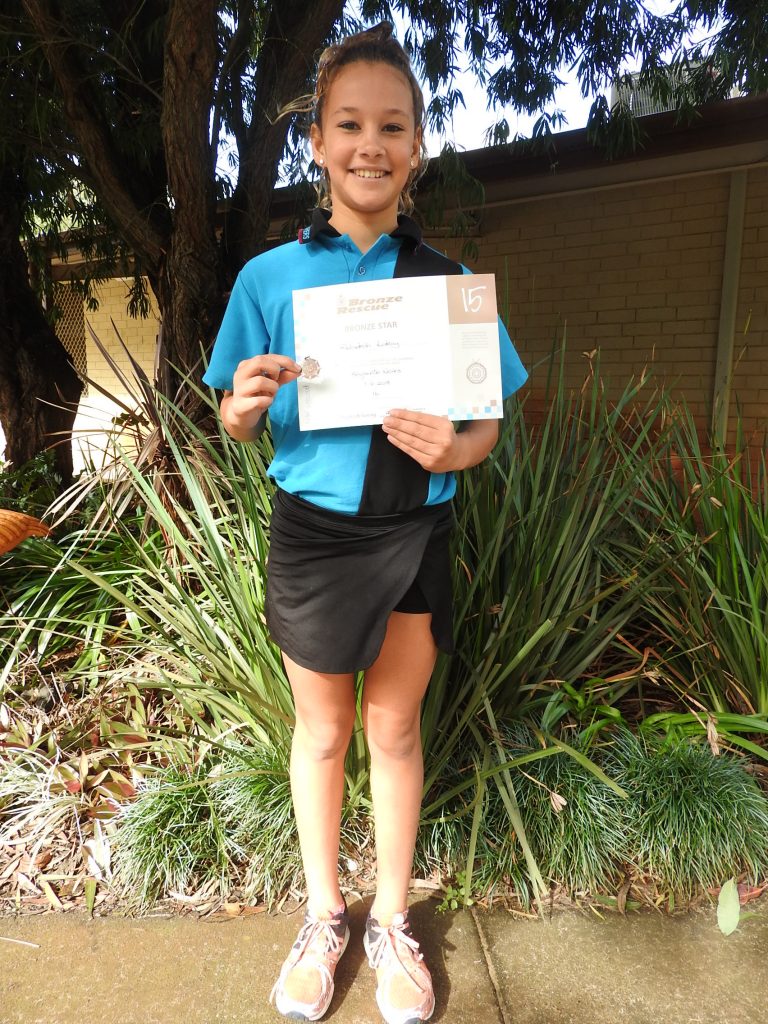 ---
Coolbinia Cross Country
Congratulations to the students who competed in this event on Wednesday 16th August.
The squad had trained very hard with students either joining the Running Club before school or training at lunchtimes twice a week.
The team performed very well with many personal bests and nine top ten finishers.
Special mention to Kai who won the year 6 boys race and Abby who was second in the year 6 girls.
Thankyou also to the parents and staff for their support – it really was a great afternoon.
Miss Fullarton Associate Principal

---